New Cryptocurrency Startup Website Design
Published on Dribbble / ui | Sasha Turischev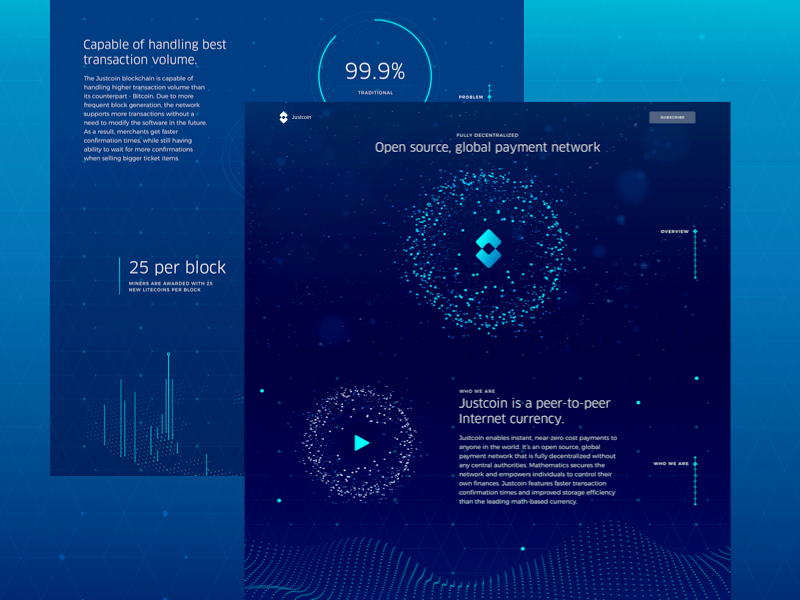 Goal

To design a modern-looking and "techy" website for a new cryptocurrency company that is going for an ICO. Considering that the density of such startups is currently overwhelming, we couldn't help but help one more startup reach their goals – bringing a "wow" effect to the visitors and sharing the information about their mission and problem that the startup is solving in a comprehensive way, while trying to stand out among the "Stripe-like" websites that are pretty popular nowadays.
Approach

We decided to use an interesting interactive object (globe) for the hero image, which will change colors and move based on the mouse movement over it. The globe symbolizes the scale at which cryptocurrency payments can be used, and the startup logo is placed in the middle conveying a message that this company is a core for the future of cryptocurrency. Once a user scrolls down, the main hero image object will scale down and gradually move over to the next screen, resembling a video that will explain the main idea behind this startup.
Solution

We have a modern-looking website with a nice "wow-effect", which conveys the message that people should use this cryptocurrency, and allows them to sign up for the updates. The textures and visuals convey the high level of the technology and the algorithms used for the cryptocurrencies. The map is animated to show that there are new "miners" popping up around the globe every 2 seconds, which shows how popular the cryptocurrency is.
Let us know what you think, guys!
Don't forget to follow Zajno on social media and feel free to drop us a line:

Facebook | UpLabs | Twitter | Instagram | Medium |