Zajno Grid Experiment
Published on Dribbble / ui | Igor Pavlinski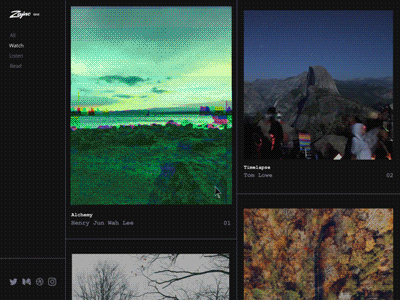 Happy Friday!
As you might know, a couple of weeks ago we launched Zajno Grid, a little web source for sharing cool things we're inspired by so that you could learn more about us and we could learn more about ourselves as well. We love learning new things about each other, things that show what we really are, and sharing those things too, so we thought it might be a nice idea to create a space where we could do it easily and quickly. Here it is, check it out, maybe you'd find something interesting to you too, that'd be awesome 🙂
However, you know what they say: change or die. It's always about time to think how you can improve your product. So we keep on experimenting and coming up with new ideas. What you see above is an animated version of one of them. Decided to share it with you here to ask you what you'd say about this one. Looking forward to hearing from you!
Check out the current live version here!
Press "L" to show some love!
Don't forget to follow Zajno on social media and feel free to drop us a line:

Facebook | UpLabs | Twitter | Instagram | Zajno | Medium