How to Monetize Your Creative Work Without Advertising
Earning an income as an online creator can be difficult. Advertising has long been the go-to method for monetizing online content, but it can detract from the focus and integrity of your work. At Prototypr we think (and hope!) it's time to consider different ways to earn money from online content and we want to be a part of finding a different model.
Crowdfunding provides an interesting alternative because it directly links content creators with content consumers. On the web, even niche content has the possibility to reach millions of people and if those people are willing to pay even a small amount for content they enjoy, it can quickly add up. There are various crowdfunding methods available, and while they may not currently be sufficient to fully support an income, we hope that as they gain a larger user base, we can eventually ditch advertising altogether. In this post we'll provide an overview of four different methods for crowdfunded online income:
1. Crowdfunding Platforms
What is it?
Most of us know crowdfunding websites like Kickstarter and Indiegogo, where you can get funding for a project or product idea. Both platforms have distinct guidelines for the types of projects that can be posted, but the overall concept is the same: You post your idea/prototype/project and anyone who is interested can pledge a certain amount to help fund its completion. If your project reaches the set funding goal, you will receive the donations.
What can you use it for?
Crowdfunding sites work for concrete projects with a clear end goal, so you need to have a specific idea in mind to use them.
How much money can you make?
The amount of money that can be raised through a crowdfunding campaign varies greatly. According to Kickstarter, most successfully funded projects raise less than $10,000, but it's possible to raise several million dollars.
How much work is it?
Launching a successful crowdfunding campaign can be a significant amount of work as it requires actively promoting the project to gain traction. According to Kickstarter, about 40% of projects on their website reach their funding goal. On Indiegogo the number is lower, probably because they have fewer requirements for which projects can be included on their site.
Where can you learn more?
Kickstarter has lots of tips and tricks for how to launch a successful project.
Starterstory has advice and case stories from people who have launched a successful Kickstart campaign.
2. Subscriptions & Memberships
What is it?
You can use subscriptions and memberships as a way to establish a community of people who pay a monthly fee for extended access to your work and participation in your community. There are various subscription services available such as Patreon, Ko-Fi, Buy Me a Coffee, and Podia. The services vary in what they offer and how much they charge, so take a look at the different options before you choose one.
What can you use it for?
Subscription and membership services are used for different types of content and arts like music, podcasts, and writing. They don't require that you have a project with a clear end goal, but you need to have a pretty constant stream of work for people to feel like they are getting value for their money.
How much money can you make?
The amount of money you can make through subscriptions services depends on the size of your online following. It is typically a small fee per subscriber, so a solid following is crucial for profitability. We haven't found any stats on how much people actually make, but according to Patreon, if you have 30,000 followers outside of their platform, you could make between $315 and $1,575 a month. But not all your followers will convert to paying patrons.
How much work is it?
It really depends on what you're creating and how big the community aspect of your following is. You need to produce a steady stream of work to keep your subscribers happy and attract new ones. The positive is that you're spending your time producing and selling your own work, which is sort of the whole point.
Where can you learn more?
Patreon has published extensive guidelines for how get started and how to succeed.
Podia has some inspiring creator stories from successful content creators.
PCmag has a list of seven crowdsourcing alternatives to Patreon.
3. Tips & Donations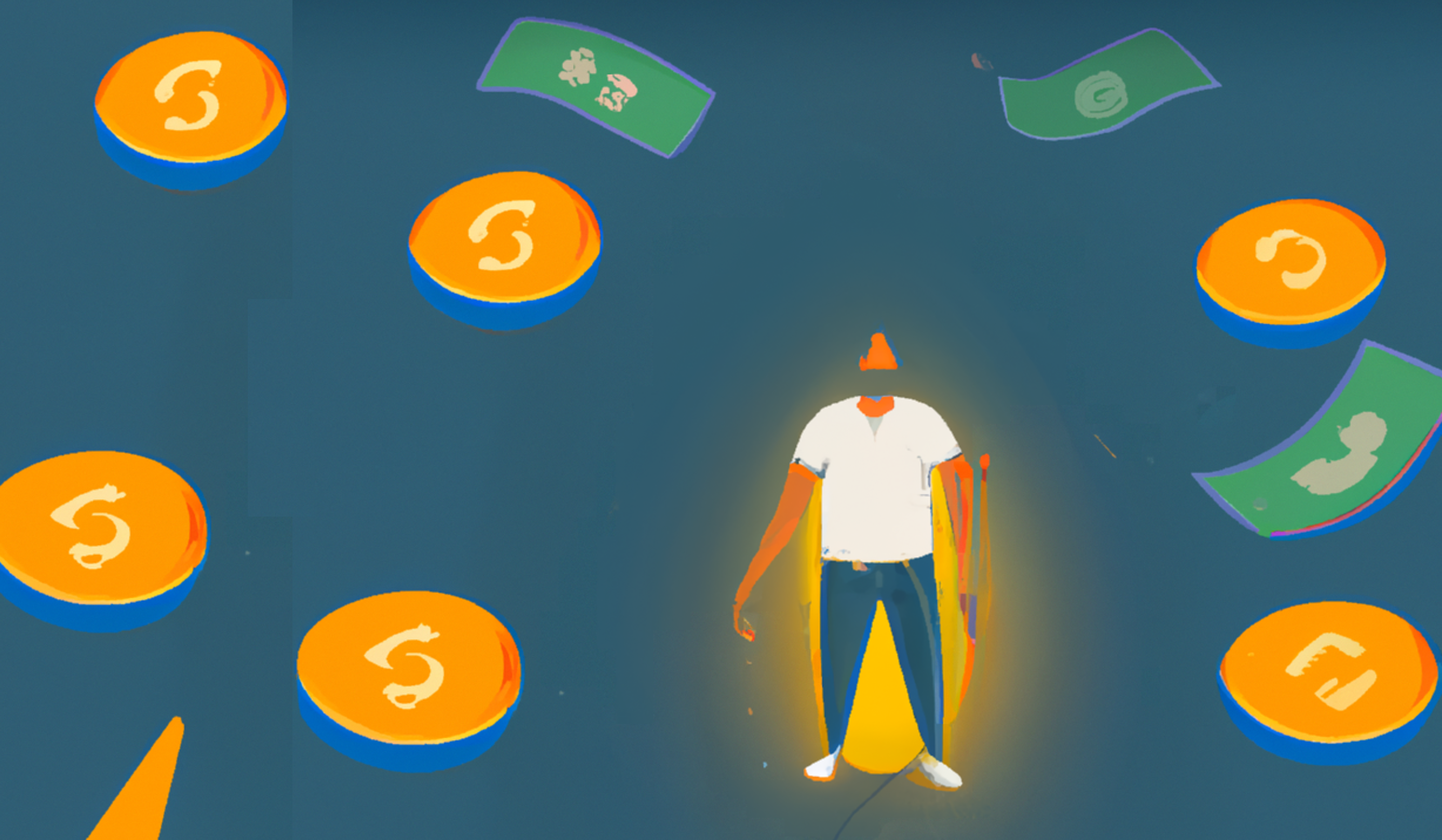 What is it?
These services make it easy for your followers to give you a little money when they like your work. It's usually one-time donations and doesn't require a membership. Ko-Fi and Buy Me a Coffee are popular options for this.
What can you use it for?
You can use donation services for pretty much any type of online content. It doesn't require a steady stream of work, since people just pay whenever they feel the content is worth it.
How much money can you make?
It's not easy to find any information on how much people actually earn from donation services, but since we're talking small one-time donations, it's probably not going to be a lot.
How much work is it?
It can be as little work as signing up for one of the services and adding a donate button to your online content. If you want more donations, you'll probably have to promote your content more.
Where can you learn more?
Ko-fi has a useful article on how to get started and making it work.
Utreon has a thorough comparison of features, pricing, etc. of Ko-fi and Buy Me a Coffee.
4. Micropayments / Web Monetization
What is it?
With the Web monetization service Coil, users pay a monthly fee of $5, which is distributed among all the creators the user visits, if they are signed up for Web Monetization. The micropayments are automatically streamed to the creators' accounts through a browser extension when users visit their content.
What can you use it for?
You receive micropayments based on the amount of time users spend with your content, so it works for any kind of content which takes a little while to use. You can also provide exclusive content to Coil users.
How much money can you make?
Right now, probably not very much, since Coil only streams a very small amount from each user, and the user base is not that big yet. It doesn't help that the sign-up process is a bit technical and cumbersome. But, this could change in the future and Web Monetization or something similar could become the primary way to fund online content.
How much work is it?
Once you're signed up and have installed the needed browser extensions, you're good to go. You might need to create custom content for Coil subscribers, if you want to grow your user base.
Where can you learn more?
Amber Case writes about the current state of micropayments on Medium.
Coil has detailed guidelines for how to get started with Web Monetization.
Alternatives to Crowdfunding
Obviously, crowdfunding isn't the only alternative to advertising if you want to earn money from your creative work. You can sell stuff, like Figma templates, Notion templates, articles, or any kind of artwork. You can also apply for grants or try to find corporate sponsors who's brand whose brand aligns with yours. If you have a large following, you can also set up paywalls around your content.
What Will the Future Hold?
It's uncertain what the future holds for crowdfunding, but we think some of the methods have potential to become a steady income in the future. More than 5 billion people are online. If just 5 or 10% of those people we're part of crowdfunding it could create a steady income for a lot of creators. And it's not necessarily unrealistic for that many people to sign up for something. A social media platform like Pinterest has nearly 300 million users. Facebook has a whopping 2.38 billion users, that's almost 50% of all the people online.
But why would people want to pay for something they get for free? We don't know if it's possible to get more people to pay for content, but we think it's possible. A website like Wikipedia is already almost solely funded by individual donations. Additionally, new laws that limit advertising and personal data usage may make online advertising less profitable in the future, pushing websites to charge for content in different ways.
We think micropayments are a promising solution because they allow creators to make a living while still keeping content open and free for those who can't afford to pay. But for widespread success, the entire ecosystem of online payments needs to be made much more user-friendly for small transactions. Services like Coil are experimenting with solutions, but there's still a ways to go before it's easy enough for the average internet user.
Hopefully that ecosystem isn't too far away, and in the meantime we'll continue to experiment with the different solutions. Afterall, the best way to predict the future is to help create it.
Want to Learn More?
You can read more mind boggling statistics about internet use and the brief history of the internet at Our World in Data.
This article was funded by Grant for the Web, an Interledger Foundation program to boost open, fair, and inclusive standards and innovation in Web Monetization
---