Design Articles Without The Paywall: Open Stories
Last week we launched the new Prototypr 3, with an open space to publish articles without the boundaries of sign up walls and popups. We finished
3rd on Product Hunt
, and are already at nearly 3,000 members!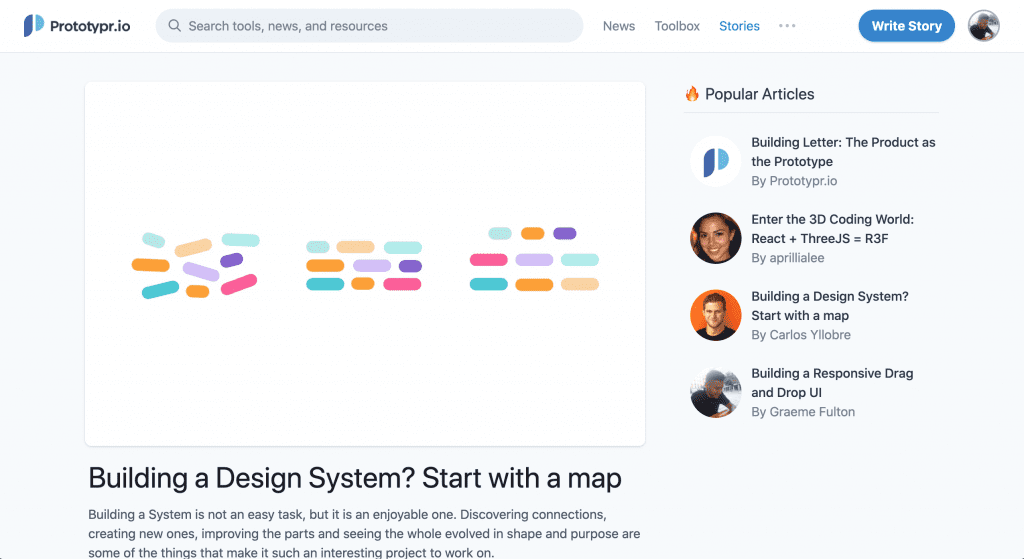 And today, I'm excited to share our new editor – now you can directly contribute to our
Open Stories
section from a new editing dashboard. The publishing tools include:
📝 An Editor: Write and edit your posts.
🖼 Media Library: Easily upload images for your articles.
👁 Preview: See how your drafts will look when published.
Open design, open content
Traditionally, blogs and educational content in the design/development industry have been openly accessible for anyone on the web to learn from, no matter their background. Recently though, we've seen a rise in gated content, which has also been known as 'the great paywall mania' (well, I made that term up):
It must be noted here that paid publications such as the Washington Post and LA Times are written by professional news journalists. This makes them tricky to compare with premium blogging platforms like Medium, where anyone can write. Running a paid Medium publication with Prototypr, I love that authors can earn money directly from their writing, but there's another side to it too. Some content just doesn't fit the paywall model:
💰 Articles with little research don't fit – paying members expect high quality.
👎 Content that doesn't fit the publication's calendar will get rejected.
😢 Subscribers are unlikely to want to read design case studies, that showcase work rather than teach them something new.
That's not even mentioning the ethical dilemma of restricting content to people who can afford it. As famous illustrator extraordinaire, Pablo Stanley puts it:
"The knowledge behind our craft should not be kept behind gates but rather freely accessible to the world." – Pablo Stanley
Most of what I learned, including the skills to make this site came from free resources I found on the web, so I agree. And like Pablo, I was guilty of pirating some Adobe software as a student 😂. This is my favourite bit of the
Open Doodles article
:
When I was starting as a designer, there was no one around me to teach me the craft, and I was broke as hell. I wanted to learn how to do digital art, but I had no money to get the programs. So, I had to pirate software (sorry Adobe) and even steal the CDs that used to come inside tech magazines.
So apart from your own website, where is good to publish something that you want to share with an audience? What about just writing for fun, or even sharing information that is in the public interest?
Disappointed to see an article like this behind a paywall!🤦‍♀️I'm all for getting paid for your work but work rights and industry problems concerns all of us. Everyone being able to read this free of charge is what will pay off the most for all of us in the end @jamalnichols. pic.twitter.com/7AZKAUR8WN

— Signe Roswall (@signeroswall) May 16, 2020
How to try it
That's why we've made this
new space
. Of course you can still publish with us in the Medium partner program, it's up to you! This new space provides another option:
Anyone can read it, without restrictions.
Write about anything: we love side projects, case studies, and career learnings.
You control when your post is published (no approval needed).
If your article is awesome, it'll be marked as a 'featured article', appear on the front of the stories page, and get sent out in our weekly newsletter. 👋 To access the editor, sign in, and then go to the
new post page
. You'll see a button that opens the publishing dashboard: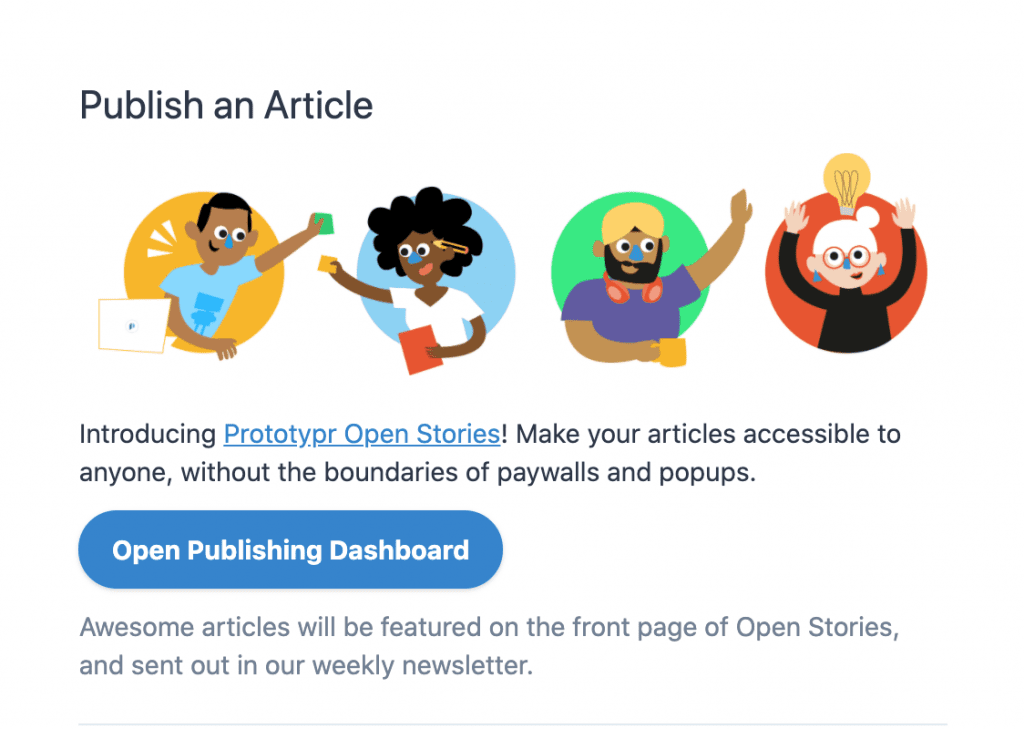 Tech stuff
If you're curious about the tech involved, the editor we're using is the magical
WordPress Gutenberg
editor. It can handle contributor content, and is something stable for the short term. In the future, we'll be putting together a faster, custom editor! For now though, Gutenberg lets us get started right away.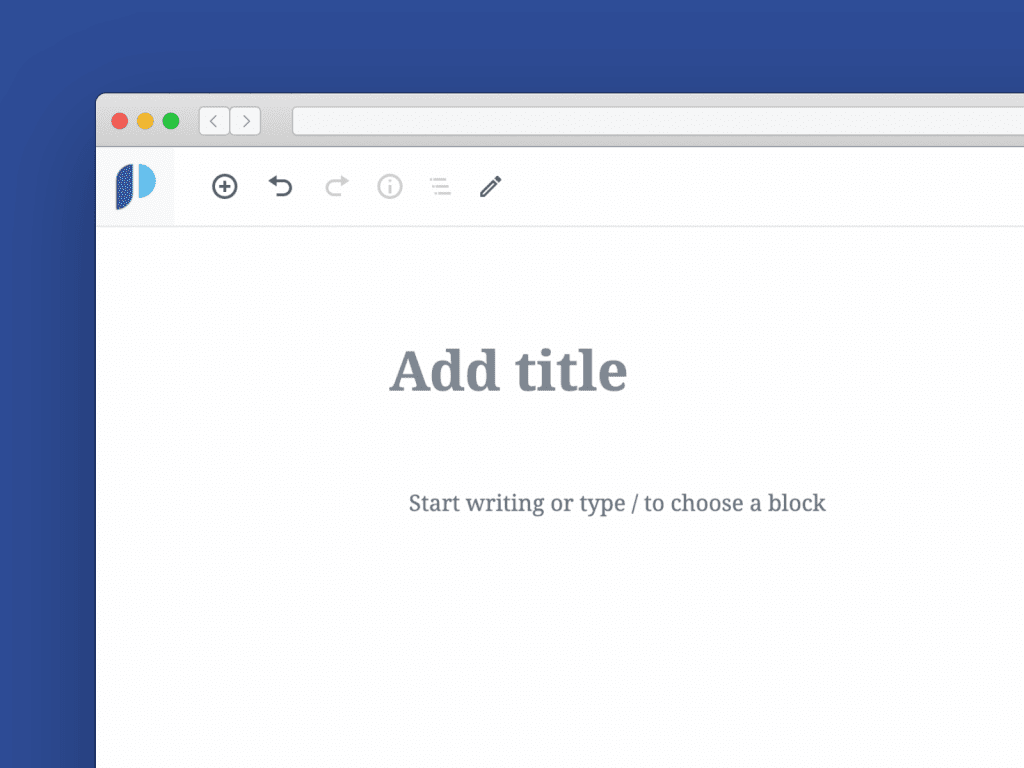 I may not be a Steve Jobs-level guru (yet), but our tiny team has made an open blogging platform that reaches thousands of people every day. Our heart is at the core of everything we do here, and our actions show it. Hop on board and see what we're creating!
So excited for this! The 1st contributor post published with the new @Prototypr Editor👉🏽 https://t.co/cNBL73r1xW

Huge thanks to @charlieyllobre! We're now an open design platform: 📝 New editor 💫 Publish straight away, without approval 👁 Open for anyone to read, for free pic.twitter.com/VtBHREgE8M — gram (@graeme_fulton) May 19, 2020